You've probably heard of the term ESG. It could have come up in a meeting, on your company's website or perhaps you came across it in an article. But what does it really mean by ESG?
Generally, ESG stands for Environmental, Social, and Governance. It is the disclosure of environmental, social, and governance data of an organisation, which increases stakeholder transparency.
The ESG acronym, according to an online article, was coined in the mid-2000s in a report facilitated by impact investing expert Ivo Knoepfel, titled "Who Cares Wins." Based on the report, Knoepfel argued that ESG factors in financial analysis should be considered in capital markets as they help to identify risks, influence business evaluation, and lead to positive social change.
In the corporate world, sustainability can be interpreted in a variety of ways. However, in today's context, where environment, social, and governance (ESG) is commonly referred to with regard to business sustainability, an article published on the Harvard Business School website states that business sustainability is doing business without negatively impacting the environment, community, or society as a whole.
ESG is also a term used to represent an organization's corporate financial interests that focus mainly on sustainable and ethical impacts.
Environmental factors involve how much an organization considers the protection of natural resources. These factors include the environment, climate change, energy consumption and use and its overall impact.
Social factors address how an organization treats people mainly the employees.
Governance examines how a corporation manages itself, focusing on internal system controls and practices to maintain compliance. Governance focuses on transparency, industry best practices, organization management and associated growth initiatives.
For organizations that are considering to grow or to operate more sustainably, implementing ESG is one of the relevant starting points to be considered.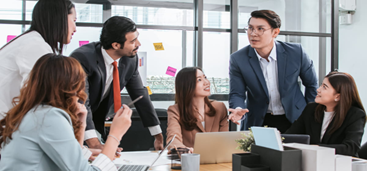 WHY IS IT IMPORTANT FOR COMPANIES TO IMPLEMENT ESG?
1) ESG influences the markets/investors on which companies to invest in as it is used as an indicator to evaluate organisations and determine future financial performance.
2) Investors include ESG criteria in their investment assessments and valuation decisions, and business leaders consider their organisations' impact on people and communities.
3) ESG increases stakeholder transparency in order to reduce risks and identify opportunities.
4) ESG allow investors to identify and invest in socially conscious companies.
5) Investors, particularly newer and younger investors, are increasingly looking to put money only into companies with values that match their own, which is why ESG investing is also sometimes called sustainable investing, responsible investing, impact investing, or socially responsible investing.
Article Disclaimer: The contents written above and/or in this website do not constitute a legal advice and should not be relied upon by any parties as such. Please reach out to us for further enquiries.

Do you want to learn more about ESG and how to implement it within the legal parameter? Contact us now at admin@nhcolaw.com.